Every February we honor the contributions and sacrifices of Black Americans who have helped shape our nation. To honor this incredible month, RIVA Solutions is taking this opportunity to shine a spotlight on a few of our incredible employees!
Meet Dee Scott, Senior Portfolio Manager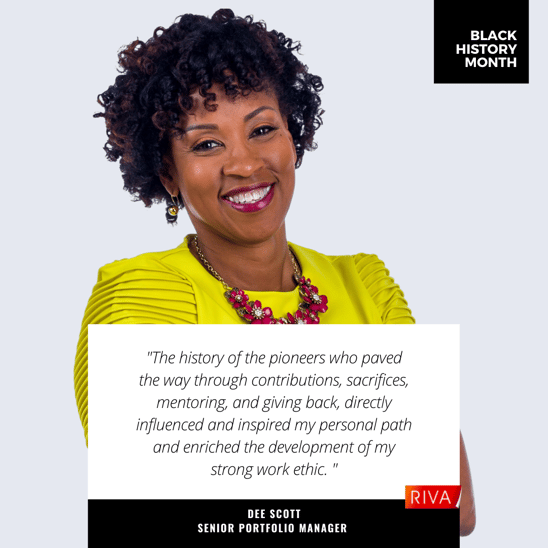 Q: What does Black History mean to you and how has it influenced or shaped your career?
A: "Black History for me is a constant state of reflection on the many contributions by Black Americans that have shaped the world. As I move throughout my day, I'm reminded of the many inventions by Black Americans that we often take for granted. From the heat in my house on a cold winter day to the refrigerator that stores my food or the simple ability to contact my family and friends via the use of a cell phone. There are literally thousands of inventions that serve as a constant reminder that black history, my history, is steeped in rich creativity that helped to shape and shift American culture and economics. The history of the pioneers who paved the way through contributions, sacrifices, mentoring, and giving back, directly influenced and inspired my personal path and enriched the development of my strong work ethic. Their abilities to succeed during a time when the world did accept or respect their contributions inspire me to excel and pursue the limitless opportunities available to me today."
Q: What do you think makes a strong leader?
A: "A strong leader has to first understand the end goal and ensure that the team they are leading has the tools and resources needed to achieve that goal. If someone on the team does not, then the leader should work with them to close the skills gap(s). They should set expectations and communicate those expectations and then hold personnel accountable. A strong leader understands the value of communicating up (to their management); down (to their team); as well as across their organization (to other departments/colleagues). A strong leader develops a rapport with each member of their professional team to identify the best style of communication, which may differ from person to person. Developing a rapport in advance sets the tone for building trust that can be helpful when providing positive feedback and/or for having honest transparent conversations. I also believe that a strong leader should positively influence their team and impart wisdom and knowledge that influences professional and personal growth. My leadership style is empowerment, which encourages decision-making and confidence in each person's ability to work autonomously."
Q: What do you look for in a role model?
A: "I look for someone who leads by example and someone who not only has passion but also the ability to inspire me."
Q: The theme for this year's Black History Month focuses on the importance of Black Health and Wellness. Please share a few thoughts on what this year's theme means to you--
A: "Health and Wellness are important aspects to all people. However, given the history of the medical and mental healthcare gaps for Black Americans, some of which continue to be an issue today, I can understand and appreciate the opportunity to bring awareness and continue to educate all on the disparities that exist within the Black community. I have been an advocate for Health and Wellness in my personal life and believe that health and wellness include mental, physical, and emotional health; finding the right work-life balance; making better dietary choices; making time for yourself to decompress and unwind (yoga or meditation); embracing relationships with family and friends and exercising regularly. Having awareness and actively looking for ways to incorporate some or all of these changes in our daily lives can inspire creativity and most importantly extend our lives."
Meet Sly Harris, Recruiting Manager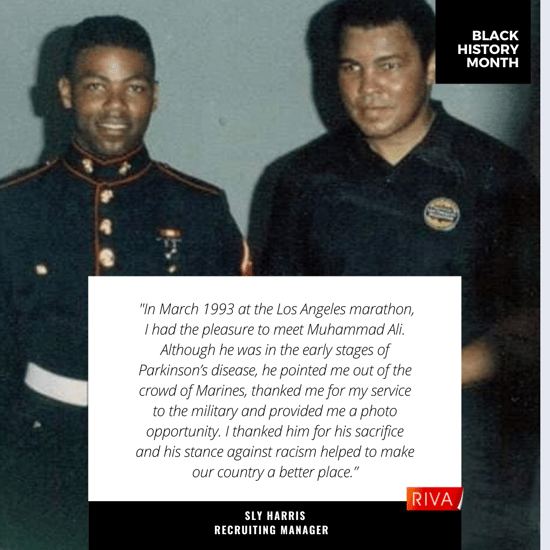 Q: What is a moment in Black history that influenced or shaped your career or life that particularly resonates with you?
A: "August 26, 1942. On this date, the first African Americans Marine Recruits began training at Camp Montfort Point in Jacksonville, NC. Through their sacrifice and dedication, they paved the way for me and other minorities to serve in the United States Marine Corps."
Q: What do you think makes a strong leader?
A: "Someone who is a good listener, communicates with their team, values their opinion, makes decision for the good of the mission and not personal gain. Someone who can respectfully disagree with peers while providing justification and a solution to solve the issue. A strong leader shares their knowledge to make the team better, stronger and more efficient."
Q: If you could have a conversation with a civil rights activist, who would it be and why?
A: "I would thank the 600 plus protesters who walked with John Lewis as they marched across the Edmond Pettus Bridge in Selma, Alabama. I would thank the 250,000 plus people who supported Dr. Martin Luther King's speech in Washington DC. Although their names are not in the history books, we could not have achieved success without their support and sacrifice. In March 1993 at the Los Angeles marathon, I had the pleasure to meet Muhammad Ali. Although he was in the early stages of Parkinson's disease, he pointed me out of the crowd of Marines, thanked me for my service to the military and provided me a photo opportunity. I thanked him for his sacrifice as his stance against racism helped to make our country a better place."
Meet Paul Black, Solutions Architect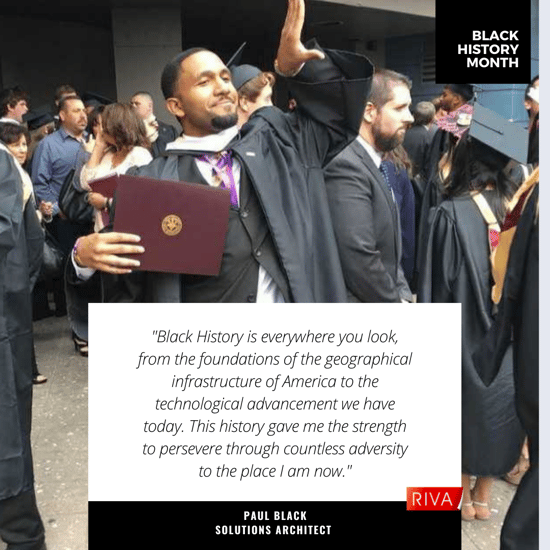 Q: What does Black History mean to you and how has it influenced or shaped your career?
A: "Black History is everywhere you look, from the foundations of the geographical infrastructure of America to the technological advancement we have today. This history gave me the strength to persevere through countless adversity to the place I am now.
My Cousin was set to be Sean Bell's Best Man; Trayvon Martin Could have been me; Eric Garner made me Stand Up, Breathe, and March for what was right; and Breonna Taylor was taken on my Birthday, the same day the COVID Pandemic would allow the world to "stay at home". Only to watch George Floyd be murdered at the hands of the law, while at the same time I was becoming the youngest Black Chief Engineer contactor ever to lead over the United States Weather Monitoring System. What happens next would become the largest uprising allocated to injustices against Black people in America since the Civil Right Movement and I was there.
With this in perspective, when I think of what Black History means to me, I think back to strength and perseverance that trailblazers such as Harriet Tubman, Booker Taliaferro Washington, Bayard Rustin, Rosa Parks, Dr. Martin Luther King, Tupac Shakur, to Tamika Danielle Mallory had when becoming a part of Black History. They were/are scholars and geniuses, ahead of their time who did not stand down to take the mediocre but stood up, when faced with injustice. So how does one who solves solutions, keep quiet when the equation is incorrect?"
Q: What is a moment in Black history that influenced or shaped your career or life that particularly resonates with you?
A: "The day was January 28, 1986, the time was around 11:39 EST, the location was 28° 38′ 24″ N, 80° 16′ 48″ W, and the Space Shuttle Challenger was headed up to outer space with one my greatest role models, Ronald Mcnair. Mcnair was the second Black American to fly into space. Mcnair was a NASA Astronaut/Physicist, a graduate of North Carolina Agricultural and Technical State University, and a member/my fraternity Brother of "THEE" Omega Psi Phi Fraternity Incorporated. He provided me examples of Black Excellence that I look up to and continue to stride towards.
That day in 1986 would be his last flight, along with his six (6) other crew members, as the "Challenger" would have a fatal accident cause by the degradation of rocket booster O-rings engineered by government contractors. It was Ronald Mcnair's journey and this moment in black history, that sparked me to aspire to become an engineer to assure functionality and sustainment in my efforts."
Q: What do you think makes a strong leader?
A: "I stand by three (3) values that a strong leader should exhibit:
Listen – Before one can instruct, one must listen.
Humility – Life is constant, remaining humble will be your guide.
Non-Content – One cannot climb up or help others climb up being content with the level of attainment in the present."
Q: What do you look for in a role model?
A: I look for a role model to see beyond the color of my skin and pour the precious oils of wisdom into me so that I may one day lift another as I climb.
- NOAA Black History Program Lead by RIVA All-Stars (Marcel Joly, Terese Smith, & Paul Black)
Q: If you could have a conversation with a civil rights activist, who would it be and why?
A: "Malcolm X. X was able to push through the darkest of times this country has ever seen by any means necessary. I would want to sit with him and understand this strength while receiving uplift on his thoughts of wisdom for me navigating as a Black person in America. He is one of the many throughout the Civil Rights Movement in Black History that saw injustices and stood up for what he understood was right."
Q: The theme for this year's Black History Month focuses on the importance of Black Health and Wellness. Please share a few thoughts on what this year's theme means to you --
A: "Begins with BLACK & ends with EQUALITY
Black Health and Wellness means to me the intention to mention the beauty of Black,
Black Health and Wellness means to me the ability to enjoy achievements without belittlement,
Black Health and Wellness stretches beyond the surface and melanin,
Black Health and Wellness is often forgotten,
Black Health includes our physical but overlooked is our mental,
Black Wellness should begin with Self-Care,
But what time for Self-Care
In a world where we have fought Mentally and Physically for over 400 years,
Black Health and Wellness begins with equality"