We are thrilled to announce the launch of our very first Alpaca Ambassador Cohort!
What's up with all the Alpacas?
The alpaca represents hard work, adaptability, and personal growth. Alpacas are social, unique, and highly curious – traits we aspire to embody as a united RIVA community. Three years ago RIVA adopted the alpaca as our company mascot. The alpaca reminds us to follow our hearts and seek ways to create good karma through service. It inspires us to never stop innovating as we push the boundaries of the GovCon industry.
WHAT IS AN ALPACA AMBASSADOR?
Alpaca Ambassadors live the RIVA brand both personally and professionally. They amplify the RIVA message no matter where they are and encourage others to stay curious, work hard, and push the boundaries of innovation. We are thrilled to introduce our inaugural Alpaca Ambassador 2021 Cohort!
Meet the Ambassadors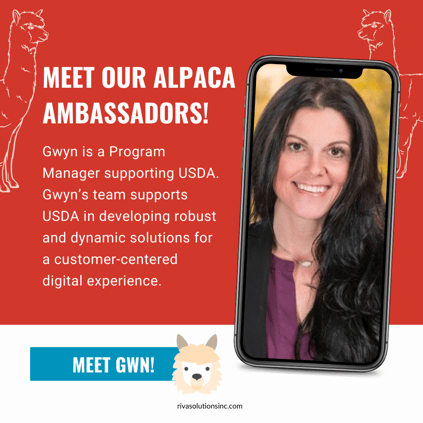 Gwyn Cavallo
Gwyn is a Program Manager supporting USDA. USDA provides leadership on food, agriculture, natural resources, and related issues based on sound public policy and efficient management. Gwyn's team supports USDA in designing and developing robust and dynamic solutions for a customer-centered experience to directly aid agricultural workers across the nation built on Drupal. She provides oversight and guidance to customers and team members in regard to best practices and recommendations on process improvements and website design and development.
Get to know Gwyn >>
What's one thing you're learning now, and why is it important?
"Time management - prioritizing and delegating...the keys to getting more things done."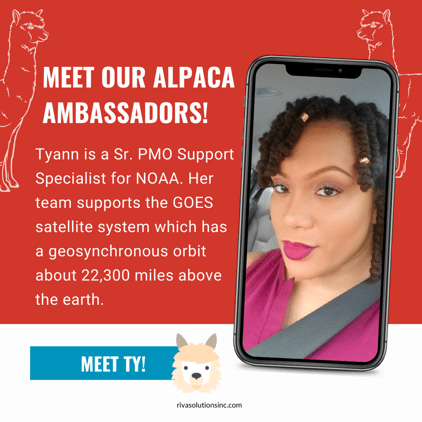 Tyann Pender
Tyann is a Sr. PMO Support Specialist for NOAA. She supports a team of engineers and handles the procurements and invoices aspect for the development and sustainment of the ESPDS which supports the GOES satellite system which has a geosynchronous orbit about 22,300 miles above the earth. GOES provides atmospheric triggers for severe weather conditions such as tornadoes, flash floods, hailstorms, and hurricanes. The satellite imagery is also used to estimate rainfall during thunderstorms and hurricanes for flash flood warnings, as well as to estimate snowfall accumulations and overall extent of snow cover.
Get to know Ty >>
What's one thing you're learning now and why is it important?
"I'm learning how to let my son grow up. He's a pre-teen! I have to let him find his way and explore but I don't want him to get hurt and I don't want anyone to hurt him."
If you could choose a superpower, what would it be?
"I'd want telekinesis. The ability to control things with my mind!"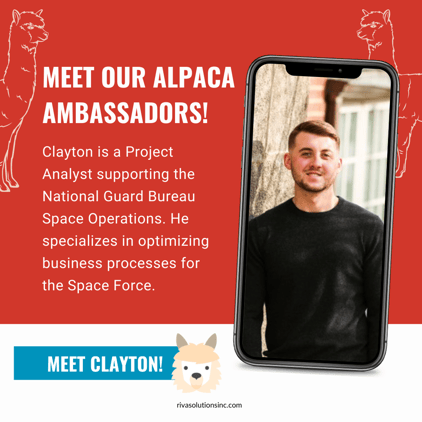 Clayton Nobile
Clayton is a Project Analyst supporting the National Guard Bureau Space Operations. He specializes in optimizing business processes for the Space Force by coordinating project details with all necessary stakeholders. He is also an Engineer Officer in the Army Reserve!
Get to know Clayton in his own words >>
What's the biggest misconception people have about your position?
"People asking me if aliens are real! But seriously, I don't think people realize I work on the business side of Space Operations. They just hear space and assume something Sci-Fi related."
If you could choose a superpower, what would it be?
"To heal sickness. I would be able to do a lot to help others!"
Samantha Wahl
Samantha "Sammy" Wahl is RIVA's Delivery Team Intern. She supports projects across a variety of clients including: NIH, NSF, FAA and USPTO Sammy recently joined team RIVA after completing her bachelor's degree at Virginia Commonwealth University. Sammy's bubbly can-do attitude is infectious, we're so thrilled to have her.
Get to know Sammy and her role better in her own words >>
What is one thing you're learning now, and why is it important?
"Broadly, I feel I am learning more about the importance of adaptability. Within my position, it is essential that I can switch between tasks or take on new ones that may not be related to one another. To be adaptable means to always be open to something new and to be willing to help when needed, even if it includes things you may have never gotten exposure to before. Adaptability is a necessary component of life in general, but working within the competitive field of business and IT makes it even more important."
If you could choose a superpower, what would it be?
"The ability to understand and communicate in every language."
Mike Rosenthal
Mike is a Project Manager based in San Antonio, TX supporting Army IMCOM, Child Related Background Check Services program. Mike and his team manage the background check process to ensure individuals who work with children and youths across Army IMCOM programs are screened and vetted, an essential process to ensure the continued safety of children! Mike's team provides peace of mind for Soldiers and Army civilians that their children are safe while in the Army's care. Originally hailing from New York, Mike enjoys exploring the quaint towns surrounding San Antonio and is an avid fan of BBQ.
Get to know Mike better in his own words >>
What countries have you visited/lived in?
I have not always lived in San Antonio, while in the Navy we had the opportunity to live in Hawaii, San Diego, Italy, Spain, New Jersey, and Japan.
If you could choose a superpower, what would it be?
My superpower time travel. There are so many places and eras that I would love to visit such as Woodstock in the 60's.
Ola Thomas
Ola is a Project Analyst supporting our growing National Guard Bureau (NGB) portfolio of projects. Ola manages and provides oversight of all internal and external correspondence in support of the NGB. She operates under the mantra "Trust, but verify". This helps her to ensure that only the most accurate and pertinent information is being pushed up to the Chief. She's learned that it never hurts to double or even triple check!
Get to know Ola>>
Have you served in our armed forces?
Prior to this position, I was still working with the National Guard Bureau on the Army Guard side within the Personnel Policy Division. I am still a Human Resources Officer (First Lieutenant) in the Army Reserves. My current position is Brigade Strength Manager/Brigade Adjutant for the 55th Sustainment Brigade out of Fort Belvoir, Va. This September will be my fifth year serving.
If you could choose a superpower, what would it be?
The power to teleport so that I'll never have to sit in traffic ever again :)
Stay up to date with our Ambassadors
Our Alpaca Ambassador Cohort are already hard at work, and we can't wait to see their positive impact upon the RIVA brand in the coming months. Stay up to date on our Cohort's progress on our social channels (linked below), and join us here on our blog to meet the rest of the Alpaca Ambassadors!